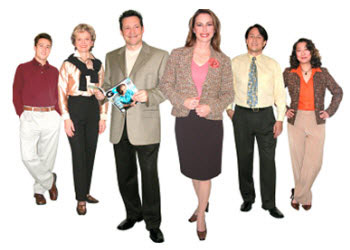 "A wise investment for a career woman."
H.C.  Logixsource Inc.
Mould your professional image to provide you a competitive edge, get the promotion, or ace that interview. We can help you:
Create a professional image that will enhance your personal presence.
Learn how to use clothing and grooming as a marketing tool.
Understand what clothing styles work best for your position, personality and lifestyle.
Raise your level of self-esteem and confidence.
Spruce up your image with a total makeover that includes a Personalized Color Analysis, Body and Style Evaluation, Personality Assessment, Make-Up or Grooming Techniques, Complete Wardrobe Tune-Up, Personal Shopping Session, and Wardrobe Accessorizing. See Package 4 for more details.
"At first, I was hesitant thinking that this
type of service was for women.
But when she began to ask questions
I had never considered connecting to the
image I was portraying and the one I wanted,
I realized I needed an objective approach."
Mike M.  President