Angèle Desgagné, AICI CIP
"You have a natural ability to convey most effectively important points, which can help a client discover themselves."
Jenny Craig Weight Loss Clinics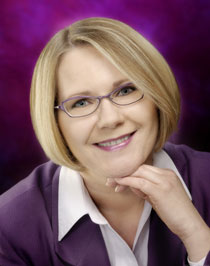 As founder of Imagélite International, Angèle Desgagné is a Certified Image Professional with a difference.  She is fluently bilingual and as popular and approachable as your favourite dessert!  Angèle is passionate about working with people, individually or in groups.  She is a delightful and charming keynote speaker and seminar leader for corporations, associations, church groups, schools, and weight loss clinics. Her corporate clients include leading pharmaceutical and travel management companies, government agencies, schools and private enterprises.
Angèle graduated from the Fashion Merchandising Program of Ryerson University. She has been certified in Advanced Image Management and Advanced Colour Analysis from the International Image Institute in Toronto, Advanced Aesthetics with world-renowned Certified Image Master Carla Mathis, and the award winning Universal Style™ system created by international leading Certified Image Professional Alyce Parsons. In 2002, Angèle earned her professional designation and received the prestigious Certified Image Professional (CIP) status from the Association of Image Consultants International.
"Your presentation on image, makeup and etiquette was extraordinary."
H. P. St-Mildred's Lightbourn School
An active leader, Angèle is former President of the AICI Canada/Toronto Chapter and ancienne Présidente provinciale de l'Association des Femmes d'Affaires Francophones. Her leadership, community involvement and outstanding services earned her five nominations for the Chambre Économique de l'Ontario Phénix Awards in the Small Enterprise and Woman Entrepreneur categories. She has also received three nominations for The Oakville Awards for Business Excellence for the Oakville Chamber of Commerce in the Entrepreneur of the Year and Service Provider of the Year categories.