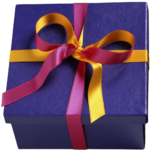 Do you need a special gift? Consider purchasing this or another Imagélite International package for someone you love!
And why not make a lifelong investment in the person who should matter the most … you! Discover how to project the image you've always wanted others to see and achieve the desired results.
Why a Gift Certificate with Imagélite International? There are times in life when moving ahead can be difficult. It may be because of an unexpected or unanticipated situation or something as thought-provoking as wanting to know what image you're projecting and the impact it has on others and your future.
Who can benefit from Image Consulting with Angèle Desgagné?
A teenager looking for a first job
A recent graduate transitioning into the world of work
A close friend in need of a boost
A spouse re-entering the workforce or changing jobs
A partner recently promoted
An individual looking to gain confidence and raise self-esteem
Someone that wants to know how to dress while losing weight
Someone wanting to feel better about themself
"I wouldn't have done it for myself but I am so happy
and grateful that my husband offered me this session." 
D.G. Oakville, Ontario
Gift certificates are available for all Imagélite International packages. We'll even consult with the recipient to provide the services of greatest need and value. All you have to do is present it to the person with  … love!
Contact Angèle today
to start the conversation and learn more about the Imagélite International package that's right for you!